Step 1: Orientation
Login
Login procedure:
Students LOG IN upon entering the Fitness Center, and LOG OUT when leaving.
Only 15 minutes of credit is awarded if students fail to log out.
Maximum workout is two hours per visit.
Students may workout twice per day with a minimum one hour break between workouts.
Only time entered on the Fitness Center login computer counts toward your grade in this class. Time from any other computer on campus will not show up on final totals for the Fitness Center.
Hours of operation: Monday through Saturday 7:00 a.m. - 1:00 p.m. and Monday through Thursday 5:30 p.m. - 8:30 p.m. Fitness Center students may use the facility anytime during our hours of operation. The Fitness Center follows the Academic Calendar.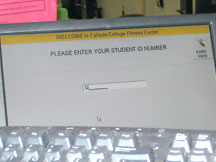 Identification is required:
Leave your Cañada College I.D. at the registration desk when using the Fitness Center. The photo I.D. is necessary for student identification in the case of a medical emergency.
Please remove or file the photo I.D. when you leave.
A Cañada College I.D. can be obtained at the Student Services Office, located in Building 9, first floor.

Towel:
A FULL-SIZED TOWEL is required when using the Fitness Center .
Please use the towel to cover upholstery and wipe down each piece of equipment after use.
Sorry, the Fitness Center does not provide towels. Students who do not bring a towel cannot workout.
Dress Code
Workout apparel is required (athletic shoes, shorts, sweats, T-shirts, full length tank tops, and sweatshirts).
Please, no jeans, belts, sandals, street shoes, or clothing with metal buttons.
Students not dressed appropriately will not be allowed to workout.