Catalog-Rights Information and Past Catalog ARCHIVES
Go to: General Education Worksheets | Catalog ARCHIVES
Catalog-Rights Version of the 2019-2020 Catalog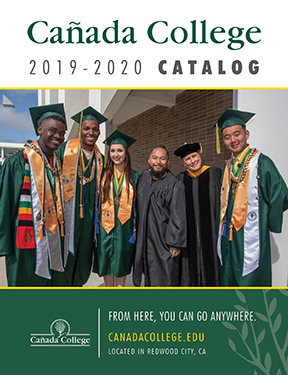 Download the Catalog-Rights version of 2019-2020 Cañada College Catalog PDF here, or please click on the catalog image.
This version was published beginning of Fall 2019 semester, and it is your contract with the college.
It remains unchanged from the first day of publishing.
At the end of the Summer 2020 semester, we will ARCHIVE both this original, Catlog-Rights version, as well as the final, updated PDF version, found here in our new Catalog Website.
For the complete list of changes to the 2019-2020 catalog, please see the chart below.
Catalog Updates, Corrections, and Curriculum Amendments to the 2019-2020 Catalog
DATE
Amendments, Changes, C-ID Approvals
Catalog Version 2, published on 9/27/19, contains the following changes:
8/19/19
The state of California has approved the Cloud ComputingCertificate of Achievement and has been added to the current catalog.
9/9/19
The State Chancellor's Office has approved the Video Game Design Certificate of Achievement

and has been added to the current catalog.

9/26/19
Updated AA/AS Degree worksheet, section 6: Majors -

"Either 12 units or fifty percent of the units required for the major, whichever is fewer, must be completed at Cañada College"

9/26/19
Removed UC Transfer restriction on MART 362 and MART 376
9/26/19
Revised definitions for Certificates of Achievements and Skills Certificates.
Catalog Version 3, published on 10/30/19, contains the above amendments plus the following changes:

10/30/19
The following courses have received C-ID approvals: CBOT 415 (C-ID BSOT 110 X), CBOT 417 (C-ID BSOT 120 X), CBOT 435 (C-ID BSOT 112 X; C-ID BSOT 122 X), CBOT 475 (C-ID BSOT 106 X), CIS 122 (C-ID COMP 112), DRAM 101 (C-ID THTR 113), MEDA 110 (C-ID HIT 103 X), PHIL 175 (C-ID PHIL 149)
Catalog Version 4, published on 11/25/19, contains the above amendments plus the following changes:
11/25/19
International Studies Associate in Arts Degree Program has been corrected to read: "Languages: Five Units of One Lanaguage"
1/13/20
Student Body Fee updated to $15; Student Representation Fee updated to: $2; For more info, visit Student Representaion and Student Body Fees' page in the Catalog
These worksheets were published beginning of Fall 2019 semester and remain unchanged. For the most up-to-date worksheets, please view the worksheets webpage in this catalog.
Documents on this page are available in pdf format which requires that you have Adobe® Reader®, available free from Adobe, installed on your computer.