Overview
2016 Hall of Fame Induction Ceremony to Feature Twelve Inductees
Former Cañada College Colts basketball player Lamont Quattlebaum highlights a class of twelve athletes that will be inducted into the Cañada College Athletic Hall of Fame this year. The ceremony will be held June 4, 2016 at the San Mateo Elks Lodge. A social hour and silent auction will begin at 5:00 pm, followed by a sit down dinner and presentation ceremony at 6:15 pm. Admission to the ceremony will be through dinner reservations only. The reservation form can be found here or by calling Mike Garcia at (650) 306-3212 or by email, garciamike@smccd.edu.
In addition to Quattlebaum, this year's class includes the 1971 Baseball Team, Joe Cabrera, Ray Cocco, Kevin Jordan, Justin Love, Scott McBain, Dick Metz, Ron Scott, Matt Wooldridge, Gary Wratten, and Jeanne Stalker. The 2014-2015 Student Athletes of the Year Award Winners are Ariel Mangum (Women's Volleyball) and Rohndell Goodwin (Men's Basketball). The 2015-2016 Student Athlete Award Winners are Natie Manalo (Women's Volleyabll) and Jacob Martinez (Men's Baseball).
Second Annual Athletics Hall of Fame Banquet Draws a Sellout Crowd
The second annual Cañada College Athletics Hall of Fame Banquet was held in early June at the San Mateo Elks Lodge.

2013 Inductees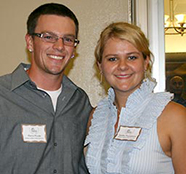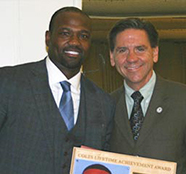 2013 Student Athletes Harold Reynolds and Cañada President Larry Buckley
A sellout crowd cheered as a class of eight former athletes was inducted into Cañada's Athletics Hall of Fame. The event also honored the 2012-13 Colts Male & Female Student-Athletes of the Year.
"This was an excellent event," said Mike Garcia, Cañada College Athletic Director. "It was great to see so many former athletes and coaches and the community members that came out to support our program."
The Hall of Fame was founded in 2012 by Garcia. Since the inaugural ceremony, numerous individuals and businesses have given generously to make it an annual event.
"The entire Hall of Fame Committee would like to thank all who have donated in the past, which in turn enables us to honor and remember the rich tradition of intercollegiate athletics at Cañada College," said Garcia. A Hall of Fame Wall in the gymnasium lobby displays the inductees.
The Hall of Fame Committee receives nominations from the Athletic Department, Faculty, Alumni, and community members. "We encourage everyone to continue to nominate prospective Hall of Fame inductees every year," Garcia said. The nomination form can be found here. If you are interested in nominating a person for the Hall of fame, please download the nomination form provided and send to the committee members.
This year's Colts Male & Female Student-Athletes of the Year were golfer Annika Nousiainen and baseball pitcher Pierce Precht.
Nousiainen, a Redwood City native, finished Spring semester with a 3.75 GPA and 1.5 handicap. She led the Lady Colts to the 2012 state finals. She received a scholarship to play golf at Point Loma Nazarene University in San Diego next fall and plans to study Business Administration.
Precht, a 6-foot-1 left handed pitcher, was a starter for the Colts in 2012 and 2013. The psychology major had a 2.7 GPA and was actively recruited by a number of four-year colleges. Precht graduated from San Mateo High School, where he was named Peninsula Athletic League Pitcher of the Year in 2010. In his final season at Cañada, Precht posted a 6-3 record in 10 starts with a 3.02 ERA and earned second team All-Coast Conference honors.
One of the night's highlights was the recognition of former Colts baseball player Harold Reynolds with the Colts Lifetime Achievement Award. Reynolds played one season for the Colts in 1980 and was then picked second overall in the Major League Baseball draft by the Seattle Mariners. He was named an MLB All-Star twice, earned two Gold Glove Awards, and led the league in steals in 1987. Reynolds is now known for his broadcasting work. He was the lead studio analyst on ESPN's Baseball Tonight from 1996 to 2006, winning a sports Emmy for his studio work in 2003. Since 2007, Reynolds has worked at MLB.com as a commentator and is presently a regular analyst on the MLB Network.
A Message from Mike Garcia, Hall of Fame Chairman
Cañada College Athletics has a rich and storied history of success since 1968. In order to honor the past 45 years of competition and achievements we must solicit private donations for the Hall of Fame Induction Ceremony on an annual or bi-annual basis. Please send your contributions (checks only please) to Cañada College Athletics, c/o Mike Garcia, HOF Chairman, Cañada College 4200 Farm Hill Blvd., Redwood City, CA, 94061.
A trust account has been established for the Cañada College Athletic Hall of Fame.