Courses Schedule
Honors Courses Offered this Semester
Honors courses are offered each semester. Some Honors courses are entirely filled with Honors students, and other Honors courses meet within a traditional courses, but the Honors students use a different syllabus and may have different assignments.
For a current list of Honors courses, use the word "honors" in WebSCHEDULE.
View Honors Course Poster
Click the Honors Course poster below to view/download/print a PDF.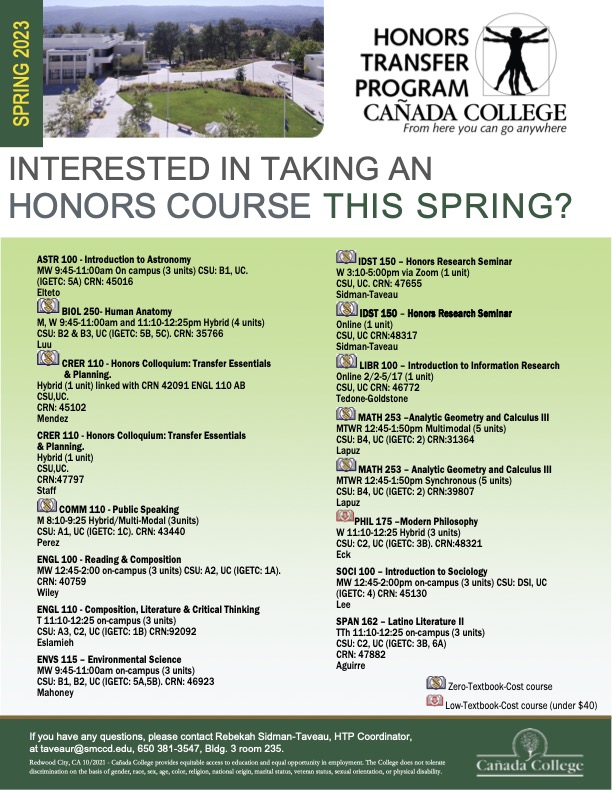 New to Cañada College?
Ask your academic counselor about taking Honors ENGL 100 or MATH 200. These classes will get you off to a great start in college... and in Honors! See specific Fall course registration info below.
ENGL 100: Reading & Composition - Honors
MW: 12:45-2:00 pm (3 units)
Transfer: CSU: A2, UC (IGETC: 1A)
CRN: 92120; Wiley
MATH 200: Elementary Probability and Statistics - Honors
TTh 8:10-10am via Zoom (4 units)
Transfer: CSU: B4, UC (IGETC: 2)
CRN: 81373; Klimkovsky
Suggested Honors Course Plan
To complete the HTP, you will need to complete 15 units of Honors coursework. Here is a suggested course plan if you plan to be at Cañada College for 4 semesters.
Past Honors Courses Archive