Student Profiles - Carlos Ortega
Carlos Ortega Earns $10,000 Pister Scholarship to UCSC
Ortega, a member of Phi Theta Kappa and Dean's List recipient the past five terms, is the first person in his family to attend college and he works 40 to 50 hours per week as a self-employed furniture mover.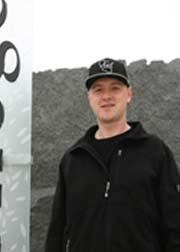 Carlos Ortega, the Vice President of Finance of Cañada's Phi Theta Kappa chapter, has been named a recipient of the Karl S. Pister Leadership Opportunity Scholarship at UC Santa Cruz. The Pister scholarship was established to help the most promising students from regional community colleges transfer to UCSC. All recipients receive a $10,000 scholarship for each of two years, as well as the support of a strong academic mentoring program and assistance finding paid summer work experience in a field that complements their studies. Former UCSC Chancellor Karl S. Pister designed the program.
"It's truly an honor to receive this award," Ortega said.
Ortega, a global economics major, will be turning down the scholarship as he has been accepted to UC Berkeley, his first choice of schools. "Hopefully another deserving student will be able to use the scholarship," he said. "It's been a dream of mine to attend Berkeley, so I'm very excited for Fall Semester to begin."
Ortega grew up in a poor, uneducated household and he does not receive financial support from his divorced parents. "The BOG waiver and Pell Grant have allowed me to work a little less and better concentrate on my studies," he said. Still, Ortega estimates he works 30+ hours per week as a handyman and fine furniture mover to help make ends meet. "It would be difficult for me to succeed academically at a university without the assistance of financial aid or a scholarship," he said.
Ortega had a difficult childhood and had relocated twelve times by the time he was 15. He lived in an upholstery shop owned by his father's friend, fashioning a mattress out of pieces of foam remnants. He began stealing food, clothes, and car stereos to meet his basic needs but that lifestyle became dangerous so he dropped out of high school in his senior year to take on a full-time job.
He began working for a fine furniture store as a mover. He quickly rose through the ranks and eventually became the warehouse manager, in charge of millions of dollars of merchandise. He was leading a six-man crew and was soon making logistical improvements in the warehouse operations to make it more efficient.
"I'm thankful for my time as manager and the invaluable skills I've learned from that powerful experience," he said. "Today, I use these skills while planning events and fundraisers with the honors society on campus. I am able to see potential problems in budgeting and logistics and prepare myself, and fellow members, to deal with such issues."
Interim President Jim Keller said Carlos is a student-leader committed to receiving a quality education. "He has had to overcome immense obstacles to an education which would have been far too daunting for most other people in our society. He did this entirely on his own initiative, without family assistance or any of the usual support mechanisms of a functioning family."
Ortega said academically he was immediately drawn to economic theory, calculus, and the mathematical formality of economic analysis. "Examining global and local events and pressing issues unfolding around me, I realize that economic analysis is essential to prescribe solutions," he said. "I strive to dedicate my life to such a discipline that has the potential to positively affect societies on both the local and global level."
Ortega said he would like to eventually work for the International Monetary Fund or the World Bank. "I believe the next step toward achieving my goal is to study in a culturally diverse setting, such as the University of California educational system. I want to study under cutting-edge professors with different outlooks."