Overview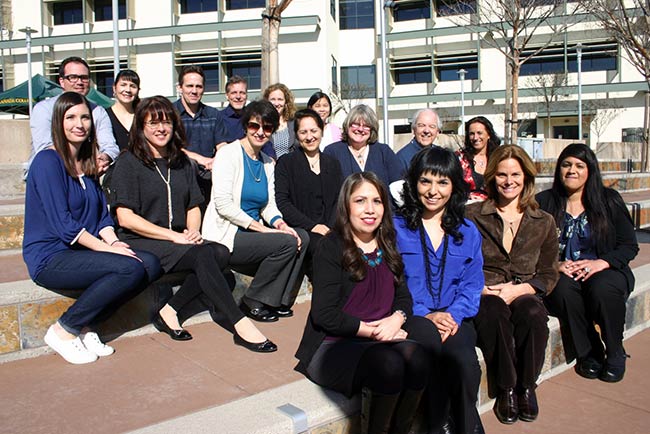 Left to right, top row: Nicholas Martin, Cindy Mata, Byron Ramey, Robert Haick, Lorraine Barrrales-Ramirez, Sarah Aranyakul. Middle row: Caitlin Escobar, Sandra Rodrigues, Gloria Darafshi, Soraya Sohrabi, Karen Olesen, Tony Basques, Michelle Mendoza. Bottom row: Sandra Mendez, Nadya Sigona, Kim Lopez, Rosa Perez. Absent on picture day: William Reyes, Melissa Alforja, Nick Tuttle and Lyn Belingheri.
Find us on Twitter @ cancollegecouns
Welcome to our new and returning students!
After you have completed the College Orientation and Assessment Session you are ready to meet with a college counselor. Counseling services are impacted the two weeks prior to the beginning of the Fall semester and Spring semester. Please complete the matriculation/registration process prior to the two weeks of the beginning of the semester. If you come for counseling services during this peak time, please be prepared to wait.
Contact Us for Counseling Appointments
Counseling Welcome Center
Building 9, 1st Floor
(650) 306-3452
Spring and Fall Hours:
| | |
| --- | --- |
| Monday & Thursday | 8:00 am - 4:30 pm |
| Tuesday & Wednesday | 8:00 am – 7:00 pm |
| Friday | 8:00 am – 12:00 pm |
Call for limited drop-in hours.
Summer hours vary, please call our Welcome Center.
Counseling Services
Academic Counseling
Assist in academic planning and select appropriate courses to achieve goals (Student Educational Plan - SEP)
Review graduation, transfer and career certificate requirements
Assist in addressing academic problems such as probation and dismissal
Advise during times of academic difficulty
Explore majors
Transfer Counseling
Assist students with information and resources for transferring to a university or college including transfer application and process
Review student's qualifications for Transfer Admissions Guarantee
Career Counseling
Help students clarify goals and provide guidance through the process of making decisions about education and career goals
Assist students with the research and review of career options
Teach a variety of career courses that offer students the opportunity to assess their interests, values, personality and skills; improve job search skills as well as enhance college level study skills
Personal Counseling
Discuss personal issues that may affect their academic performance
Explore options and develop plans with students regarding their personal issues, educational decisions and career goals
Provide referrals to other students support services and community resources
No Show Policy:
If the student is unable to keep an appointment, it is his/her responsibility to cancel the appointment and give us 24 hours advance notice by calling 650 306-3452 or stopping by the Welcome Center. Students who do not show or are 10 minutes late to the counseling appointment will be marked as "NO SHOW" on the their record. After two missed appointments (NO SHOWS) students will then be limited to using drop-in services only as they are made available for the remainder of the school year.
Important Academic Calendar Dates
Please see the Academic Calendar for specific dates for the following:
Last day to drop a semester length course and receive a partial refund.
Last day to add a semester length course
Last day to drop a semester length course without a "W"
Last day to file petitions for Certificate and/ or Associate's Degree to be able to participate in the graduation ceremony at the end of the semester
Last day to withdraw from semester length course with a "W"
For last-start and short term courses, please refer to the printed class schedule or WebSMART for the last day to drop and add.