Classified Senate Awards
Marketing Department Recognized Statewide 2017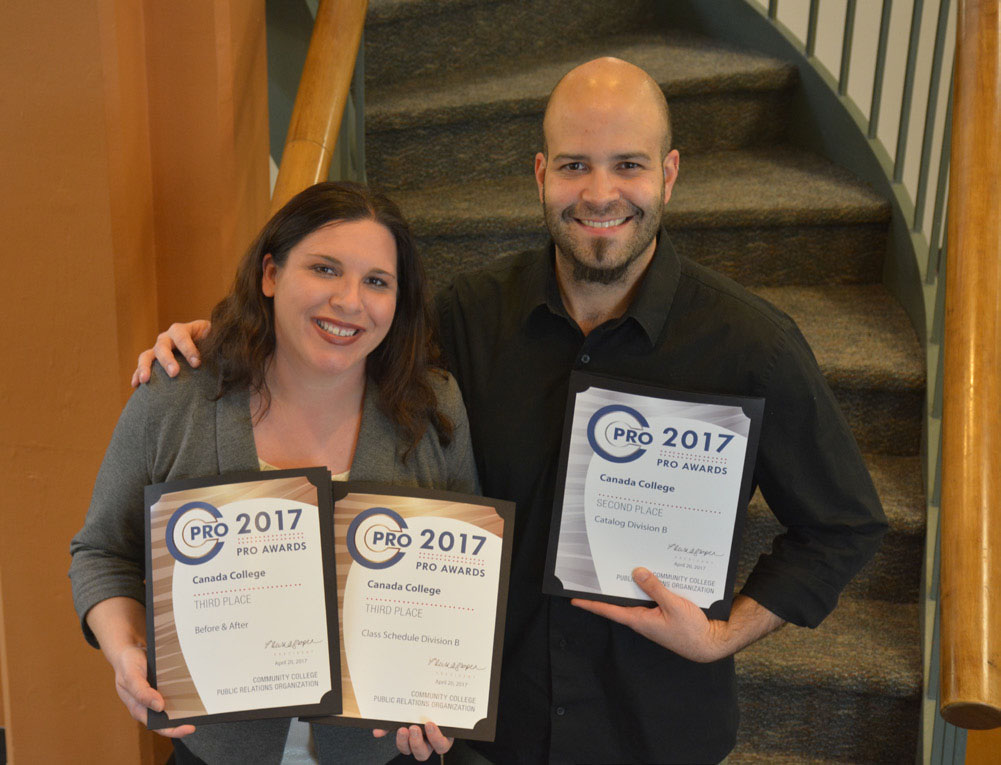 Congratulations to Jose Garcia and Megan Rodriguez Antone from the Cañada Marketing Department, who were recently recognized with three PRO Awards from the Community College Public Relations Organization (CCPRO). The team received Second place for its course catalog and third place for the class schedule and college style guide (under the "Before & After" category).
Olive Hill Press 4/28/17 Cañada College Spotlight: Calvin Eng |Senior Maintenance Engineer, Facilities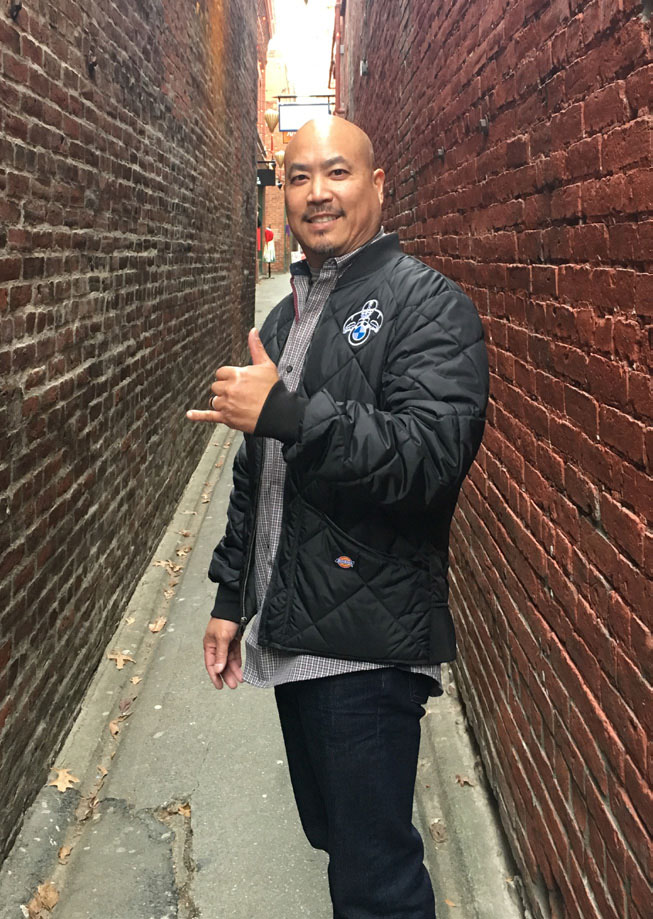 Why did you choose to work at Cañada College? I originally started my career with SMCCCD at Skyline College, and in my 2nd year with the District, the opportunity for the Senior Maintenance position came up at Cañada College. I applied for the position for two reasons; one it was a chance for a promotion, and the second was that my colleague at Skyline, Gordon Tong, had already transferred to Cañada as the Chief Engineer and since we had a solid working relationship already established, it made transferring to Cañada an easy choice.
What motivates you to work hard? Very simply, I enjoy seeing the completion of a project and doing a good job with the team. Growing up, my parents had always instilled in me the desire to work hard in order to succeed in life. Now, I not only strive to do the best work that I can do for myself, but more importantly to serve the community I work in.
If your best friend was sitting here, what would he or she say is the best part about being your friend? My best friend is my wife, and what she would say (and she insisted that I put her in quotes), is that "Cal is one of the easiest and warmest people to get to know, and I rely on him for unwavering support; this also includes asking me tough questions, and challenging my assumptions."
What makes you laugh the most? A good old-fashioned, honest and sincere mistake. Sometimes, you just have to laugh it off.
What is your favorite spot on our campus? The view from Parking Lot 7; when there are no cars or airplanes flying around on a clear day, the view of the bay is pretty awesome.
Olive Hill Press 4/14/17 Cañada College Spotlight: Jeanne Stalker | Program Services Coordinator, Assessment Services and Welcome Center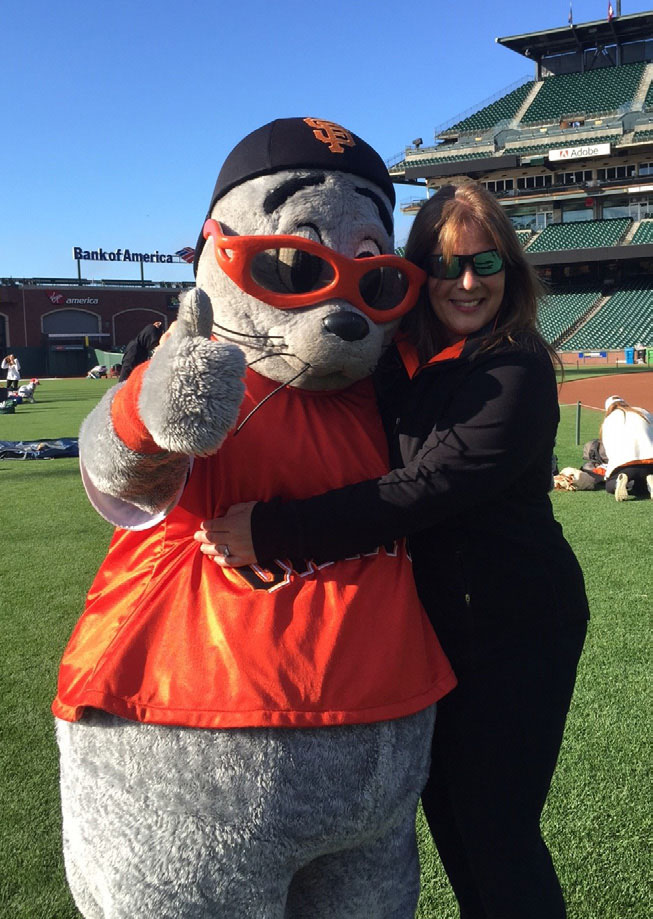 Why did you choose to work at Cañada College? I was asked to apply to Cañada (way back when) and have loved it ever since. My mom was a teacher and both my sister and I work in education, so I guess it was just meant to be. I am in my 30th year in the District and am very proud to be part of this jewel in our community.
Describe Cañada College in three words. Unique, Caring and Beautiful.
What is the best gift you have been given? My son, Anthony.
If you had a super power what would it be? To have the ability to provide every person on earth a safe, healthy and poverty free life.
What is your favorite spot on our campus? I actually have two: looking out over the magnificent view from Parking Lot 7 and in attendance at any Cañada Colts sporting events on campus, cheering on our student athletes. Go Colts!
Anna Camacho Chosen as SMCCCD Classified Employee of the Year 2017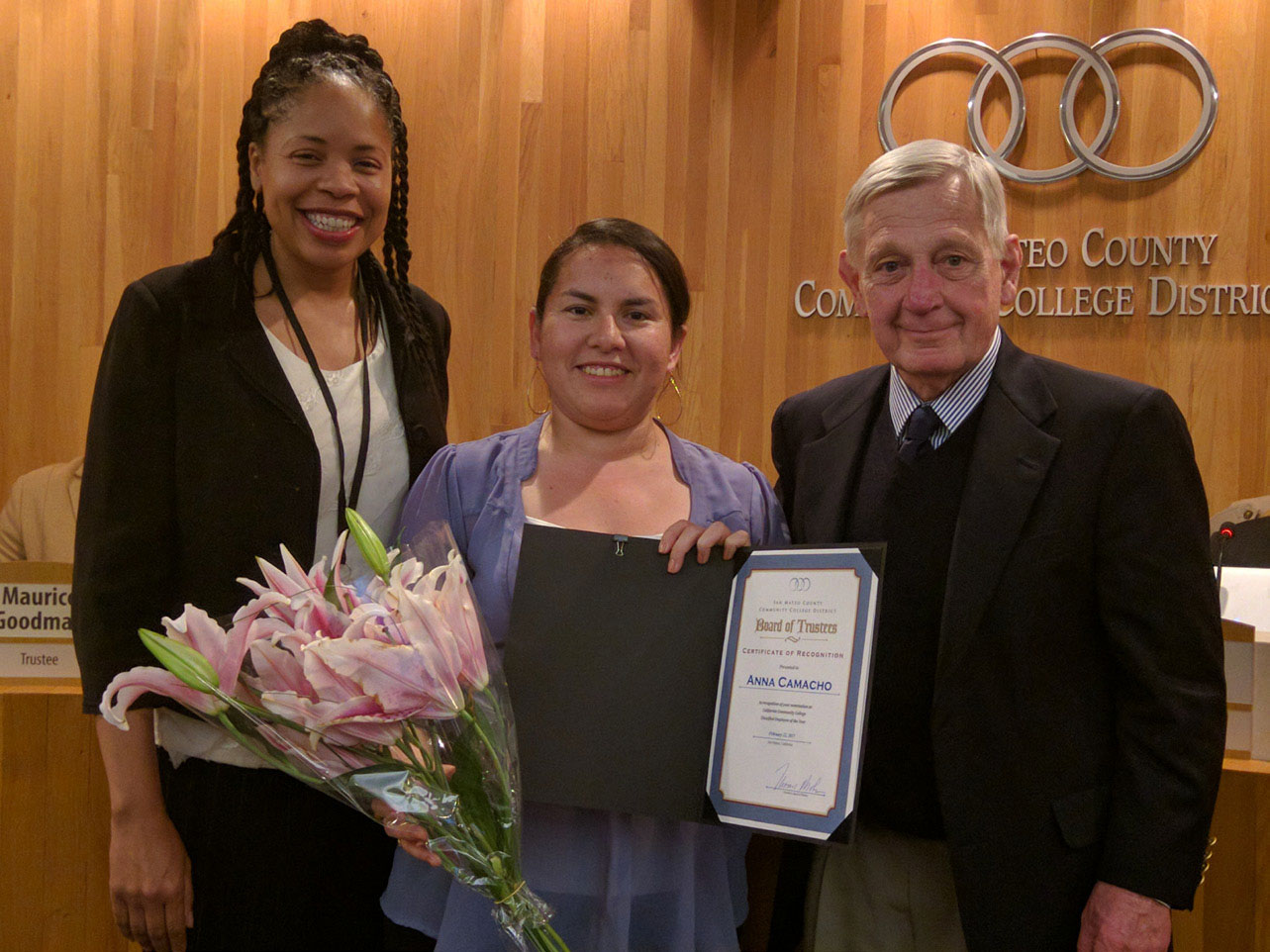 At the February Board meeting, Cañada's own, Anna Camacho (STEM Project Director) was chosen by the Board of Trustees as SMCCCD Classified Employee of the Year. Having served as both an Assistant Project Director and a Project Director for a number of federally funded grant programs at Cañada College, Anna has provided leadership and support in developing a number of successful initiatives to increase student interest and awareness of Science, Technology, Engineering, and Mathematics (STEM) fields and promote academic success of our students, especially those from underrepresented and underserved backgrounds.
Anna was instrumental in founding the STEM Center at Cañada College in 2012. Under her leadership, the STEM Center team successfully developed new grant proposals to support innovative student support programs. As a result, Cañada College was awarded a five-year, $4.35 million dollar US Department of Education Hispanic-Serving Institution STEM and Articulation grant. Initiatives being developed for this new grant-funded program, under her leadership, include: Chemistry Jam, Difference-Education Intervention, expansion of the STEM Speaker Series, STEM Exploration Week, university transfer workshops, a professional development program for STEM faculty, and a STEM faculty community of practice.
In addition to her professional duties, Anna is also a founding member of Latinas in STEM2 to Achieve Success (LISTAS), an organization dedicated to increase the number of Latinas attaining a STEM education. She is also a consultant for Unite Here 2, a union that represents service workers, where she delivers workshops that impact knowledge on how to apply for college. Additionally, Anna contributes to the education and research community by presenting and publishing the results of her work at national professional organizations including the American Society for Engineering Education, Alliance of Hispanic-Serving Institution Educators, and the League for Innovation in the Community College.
Olive Hill Press 2/24/17 Cañada College Spotlight: Peter Tam | Accounting Technician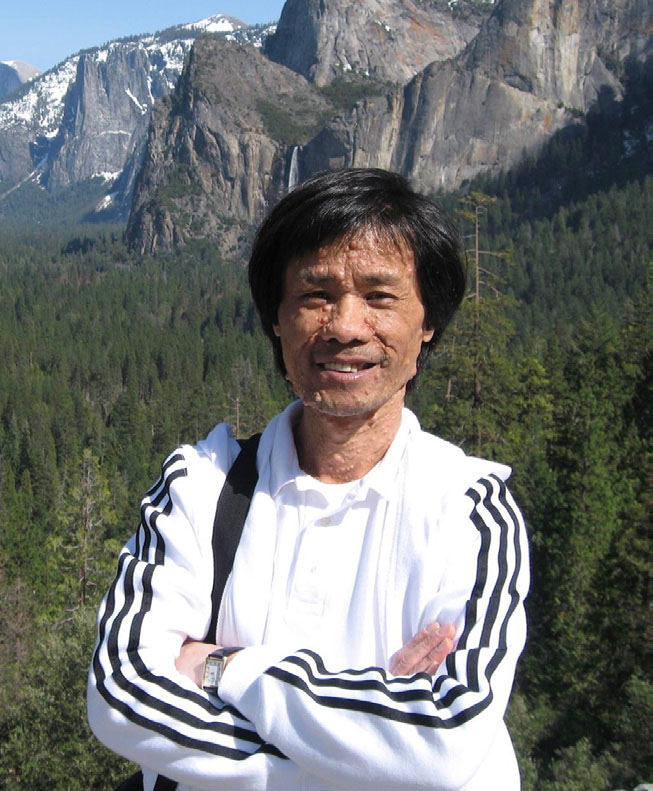 Why did you choose to work at Cañada College?I was a student here. Back then, I met many college staff, faculty and administrators and knew that it is a great place to work.
Describe Cañada College in three words. Future starts here.
If your best friend was sitting here, what would he/she say is the best part about being your friend? You're always around when I need you.
What is your favorite condiment? Oyster flavored sauce.
What is your favorite spot on our campus? The entire campus, as I'm always running around everywhere.
Marketing Team Receives First Place in State-wide Competition 2016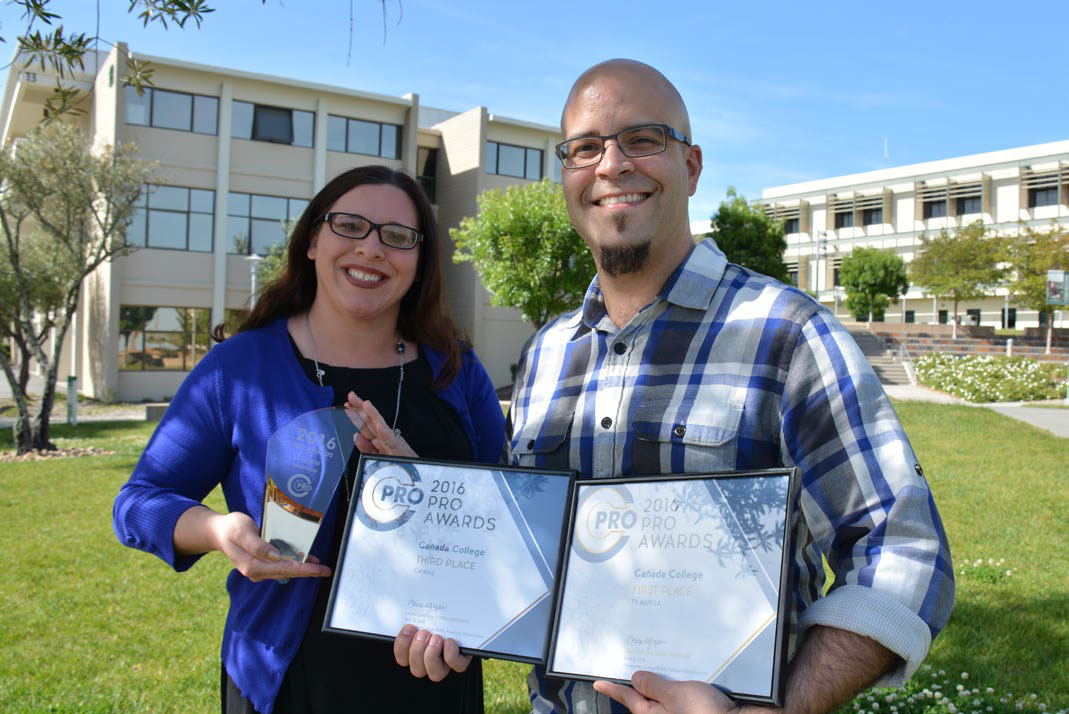 Congratulations to our Cañada Marketing Team, Jose Garcia and Megan Rodriguez Antone, who were recognized with PRO Awards at the state-wide CCPRO (Community College Public Relations Organization) conference on April 14! The Cañada team received First Place in the "TV Ad/PSA" category for its "iCAN Become" commercial and Third Place in the "Catalog" category for its 2015-2016 Catalog. The Marketing Team worked with Kingston Media to conceptualize and create the commercial. The PRO Awards recognizes outstanding work by California's community college Marketing and Public Relations professionals.
Misha Maggi Appointed to Community College Division Board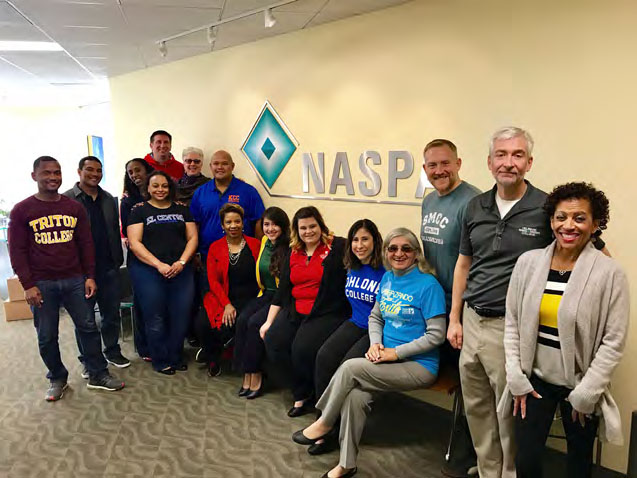 This October 2016, Cañada's Student Life and Leadership Manager Michiko "Misha" Maggi was appointed to NASPA's Community College Division Board. NASPA is the leading association for advancement and sustainability of the student affairs profession and serves 13,000 members in all 50 states, 25 countries, and eight U.S. territories. Misha was sent to NASPA Headquarters in Washington, D.C. to represent mid-level professionals in the nation and will serve a two-year term on the board.
October 2015 - Outstanding Service Award - CCCEOPSA Conference
José was given the Outstanding Service Award at the 2015 EOPS Conference in San Diego. He was recognized for always going above and beyond to help students. Since 2006, Jose has been working in EOPS/CARE and goes out of his way to find resources for students. We greatly appreciate all his hard work and dedication to the programs and to the continuing support he provides to students, faculty, and staff. Thank you Jose for all you have done by continuously supporting and advocating for our students!
March 2016 - Bellwether Awards - Ana Camacho, STEM
Cañada College's Math Jam was selected as a finalist by the Community College Futures Assembly for the prestigious Bellwether Awards. This award recognizes outstanding and innovative programs and practices that are successfully leading community colleges. The college was recently recognized during the Assembly's 22nd annual conference in Orlando, FL .
This past December, the Community College Futures Assembly announced ten outstanding community college programs (for three categories) as the Finalists to compete for the 2016 Bellwether Awards – among them Math Jam. The Assembly issued a call for Bellwether Award nominations in the fall of 2015, and 30 finalist colleges in three categories were competitively chosen from the applicants. The field of Bellwether nominations was very competitive this year with nearly 300 Bellwether applications. Prior to the application process, over 1,000 community college programs were nominated from a wide range of agencies including peer institutions, conferences, and the media. Cañada College, a federally designated Hispanic-serving institution, created the Math Jam program in 2009 to address the low level of math preparation of underrepresented students studying STEM – Science, Technology, Engineering, and Math. Initially it was designed as an intensive math placement preparation program and has since evolved into a campus-wide math success program, serving students in pre-algebra through advanced calculus. Today, the College has offers day and evening Math Jam sessions three times a year – January, June & August – serving more than 450 students.
February 2016 - Cañada's Classified Employee of the Year - Maria Huning
Maria Huning, Program Services Coordinator for Upward Bound, has been selected as Cañada's nominee for the Community College Classified Employee of the Year Award. Maria is a valuable member of Cañada College and the San Mateo County Community College District. She has demonstrated her commitment to the principles of the California Community College mission and the mission of Cañada College for the past 12 years through her professionalism and service to the college. Her advocacy for students and families has naturally evolved to become what it is today-- an excellent example of the powerful role that classified staff have in fulfilling the college mission.
Maria understands the importance of becoming involved in the life of the college and has demonstrated her commitment to serving the college in a variety of ways. She has served three terms as the Vice President of the Classified Senate. She has taken a leadership role in professional development, including working closely with the Classified Senates at Skyline College and College of San Mateo on key issues and topics, including developing a unified voice and assisting them in exercising their ability to advocate. She also has played a key role in developing the Classified Professional Development work group to establish a clear and transparent process for allocating professional development funds to classified staff at the college. Additionally, she collaborates with the Associated Students of Cañada College in planning college events for students. Finally, she is a member of a number of key participatory governance committees and is involved in a
variety of college activities that support the college mission.
Maria was recognized at the February 17 Board of Trustees meeting and congratulated by Vice President Gregory Anderson. Thank you, Maria - your collective commitment and dedication to our students help to make Cañada great!
May 2015 - Youth Mary Louise Paskevich Award - Maria Huning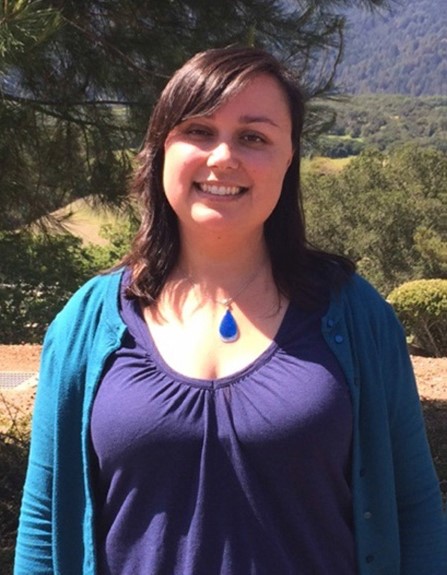 Maria Huning, from Cañada's Upward Bound program, is this year's recipient of the Jobs for Youth Mary Paskevich Memorial Award. The Jobs for Youth program provides career workshops and job training to young people in San Mateo County. Mary Paskevich worked with Jobs for Youth for almost 20 years.
The Mary Paskevich Memorial Award is given every year to a person who has supported youth in achieving a better life. This year's recipient, Maria Huning, has empowered young people in San Mateo County to envision their futures and their communities improved through higher education. Maria has supported students from communities that are often times overlooked-North Fair Oaks, East Palo Alto, and Half Moon Bay. She has served as the Program Coordinator for TRIO Upward Bound for over 10 years preparing the next generation of college bound students and advocating for equity and access in higher education.
Being recognized for her work and receiving this award is a wonderful way to celebrate her 11-year anniversary at Cañada College. Maria will be recognized alongside four Cañada College Upward Bound students. Edgar Aguirre, Jennifer Castro, Jennifer Cuevas, and Lluvia Garnica will all be awarded scholarships for their civic engagement in Redwood City.
All of these students share with Maria their passion for helping young people in the community. Cañada College and TRIO will be well represented at the Jobs for Youth Breakfast on May 28, 2015 in Foster City.
April 2015 - 4CS Classified Senate President Service Award - Debbie Joy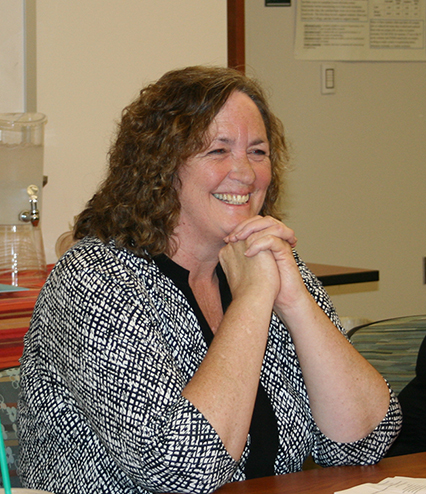 This award has been established by the California Community Colleges Classified Senate to recognize elected Classified Senate Presidents (current or past) for outstanding service. Criteria of the award are:
A successful classified senate president is one who earns the confidence and respect of their classified colleagues and the college community;
One who leads by example and recognizes the leadership and talent in others;
One whose persistent vision of excellence helps their senate and colleagues shine in the governance process;
and, One who actively promotes involvement by classified staff at the local and state level to further their leadership education and contributions to student success.
''When faced with challenging issues, Debbie does not rush to judgment but quietly asks questions seekjng to understand all sides of the matter. She has good insight and strives to respond in a fair and balanced manner". - Douglas Hirzel, Academic Senate President
"The key indicators of how Debbie is respected and is a leader include the significant increase in the attendance at the monthly Classified Senate meetings, she thoughtful agendas which are distributed campus-wide before the meetings to assure effective communication, the participation in the Associated Student Body events by many of our classified staff, and the volunteering by classified for other activities on campus." - Larry Buckley, Ph.D., Cañada College President
September 2010 - 4CS Model Senate Award presented by Benita Briones, 4CS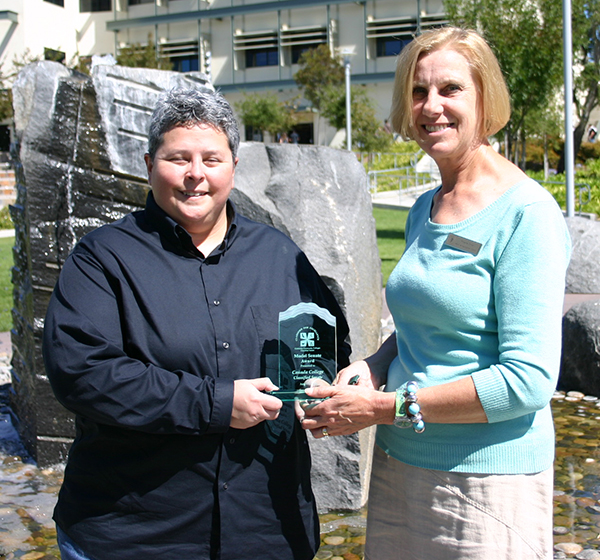 This award recognizes Classified Senate organizations that exercise their role in shared governance with autonomy and professionalism is one way in which the California Community Colleges Classified Senate (4CS) can assist other colleges in developing their local senates or councils. Model Classified Senates define the standard of staff participation within the learning environment for California community college students; encourage staff leaders to become stronger, and offer reference and experience for novice organizations and those seeking organizational revitalization.
The following criteria are used to determine if a Classified Senate is granted "Model Classified Senate" status by 4CS:
Is a participatory governance body elected by its constituents
Operates professionally under bylaws and/or a constitution approved by its constituency
Has a copy of their current bylaws/constitution on file with 4CS
Is recognized by the college administration as a governance participant
Has an up to date website
Encourages a cooperative working and professional relationship with a collective bargaining agents (if one exists) and considers input or concerns of such groups
Is organized to actively engage in the shared governance process
Communicates routinely with 4CS