Reassigned Time Process
This proposal to revise the Reassigned Time Process is informed by our Participatory Governance Guidelines and our Instructional Planning Council Bylaws. The goal is to ensure that decision-making procedures are as collaborative, fair, timely, and transparent as possible. The principles and processes are outlined below.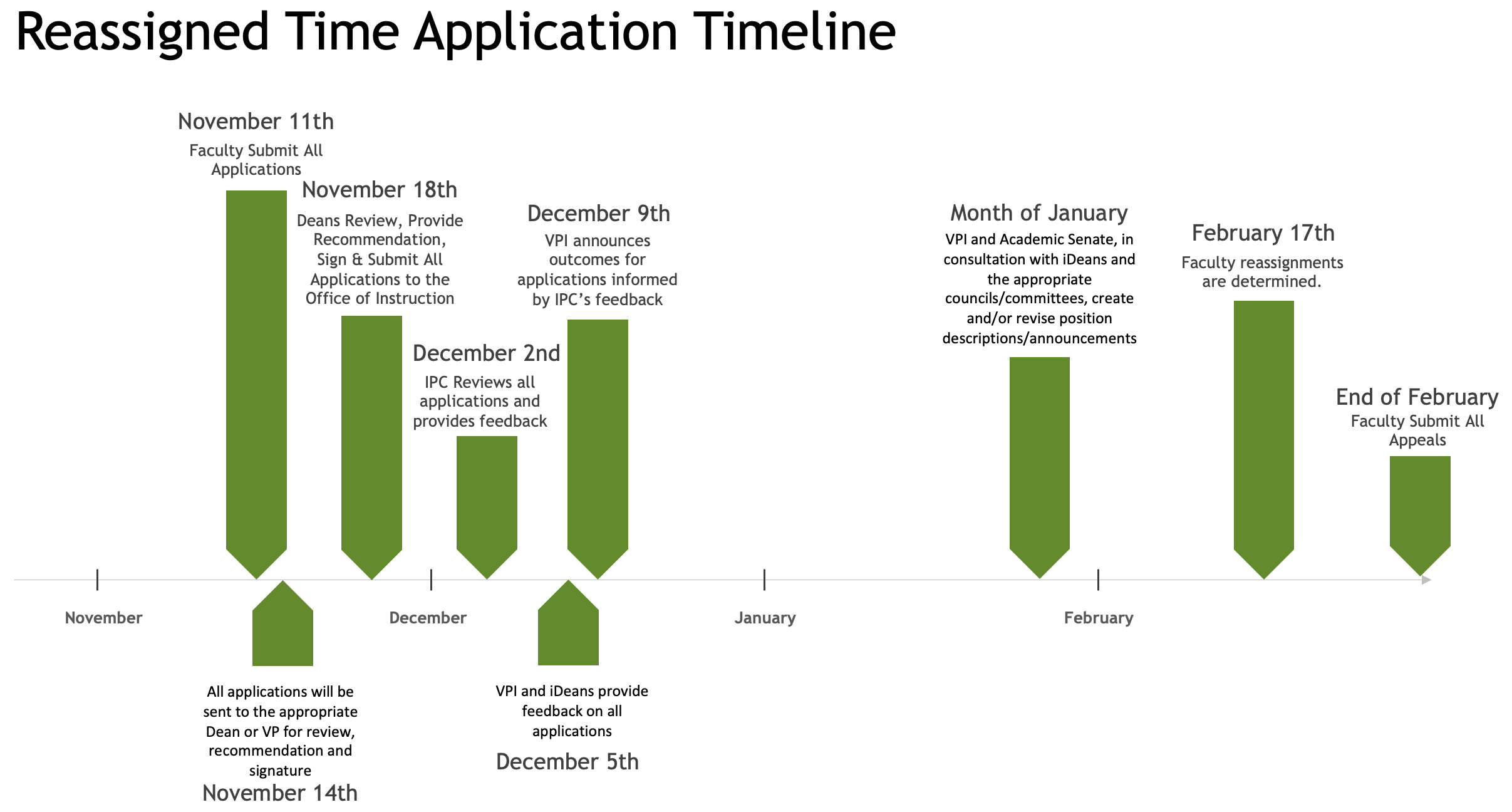 Applications for Reassigned Time (New, Revisions & Renewals)
Overview:

New Reassigned Time

: Applications originate with a faculty request, Academic Senate or another planning council.

Renewal Reassigned Time

: Applications are submitted for positions that have terms ending at the end of the respective academic year and are up for renewal (e.g., Position terms that end in the 2022-2023 academic year are renewed during Fall 2022).

Revision to Current Reassigned Time

: Currently approved positions whose terms have not ended may submit an application if revisions are needed (e.g., change of assignment name, requesting more or less units).

The Application for Faculty Reassignment will be made available on the Instructional Planning Council (IPC) webpage by the third week of October. (note: the current application includes the option to apply for a new position, a renewal, or a revision).

Faculty must submit their final applications via the online form no later than Friday, November 11th

. All applications will be sent to the appropriate Dean

no later than

Monday, November 14th f

or review, recommendation and signature

.

Deans must review, provide recommendations, sign, and submit final applications to IPC via the Office of Instruction (Alessandra Zanassi,

zanassia@smccd.edu

) by

Friday, November 18th

.

IPC will review the applications for Faculty Reassignment and provide feedback to the VPI during the

Friday, December 2nd

IPC meeting. Reassigned time authors are invited to attend.

By

Monday, December 5th

, the VPI and iDeans provide feedback on all applications.

Informed by the feedback provided by IPC, the VPI will announce which proposals for reassignment, revision or renewal have been approved and denied by

Friday, December 9th

.

The VPI will report their decision to IPC and will send results to PBC.

For College-Wide and Program/Department Coordinators, during the month of January, the VPI and Academic Senate, in consultation with iDeans and the appropriate councils/committees, create and/or revise position descriptions/announcements, if applicable.

For Program/Department Coordinators, the program will recommend a faculty member to serve to their Dean. The Dean will forward the faculty member to the VPI who will make the final decision.

For College-wide Program Coordinators, the

Participatory Governance Manual

process for selection for faculty coordinators via Academic Senate will be followed, which includes the process for announcement and faculty selection.

Faculty reassignments will be determined by

Friday, February 17th

.

All appeals should follow the designated

IPC Appeal Process

and be submitted by the end of

February

.

IPC will consider reassigned time applications out of cycle when there is an extraordinary request. Please contact the IPC co-chairs to request out of cycle consideration. All

Appeals

for out of cycle requests are due no later than a week after the VPI's decision.
Process and application UPDATE: During Spring 2021, IPC created a Reassigned Time Taskforce to provide feedback on the process and application (3 faculty members: Academic Senate President, IPC Co-chair, Faculty Coordinator; 3 Classified Staff: Program Services Coordinator, Division Assistant, Data Analyst). Suggestions to the process and application were made and were discussed at IPC, division meetings, and iDeans. In addition to changes to the process and application, the creation of a Reassigned Time Taskforce to help facilitate the process during the fall semesters, were all approved on 5/21/21 and will remain in effect until Spring 2024 (3-year cycle).