Overview
Tell us about your transfer goal!
Announcements
Contact us, if you have any Transfer related questions or would like to schedule an appointment with the Transfer Center.
Transfer Center virtual Hours:
M-Th: 9:00 a.m - 4:30 p.m.

Fri: 9:00 a.m. - 12:00 p.m.
Welcome! Cañada College Transfer Center is to assist you with your transition to university life by providing programs, and services.

At the Transfer Center, our goal is to support you to reach your transfer goal, and will assist you with selecting universities of your choice, exploring your major, learning about the academic requirements, admission policies, college costs and expenses, housing, scholarships, and other transfer matters through workshops, and counseling sessions.
From here you can go anywhere!
Plan early!!Select your major, explore your options to find the university of your choice, plan your coursework, and your finances.
Transfer Options Applying to Universities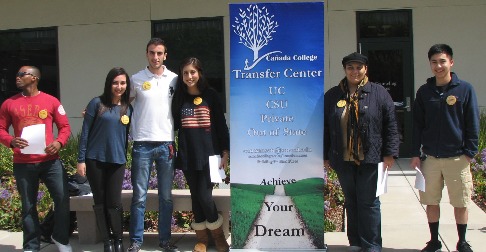 Transfer Program and Services
Resources
The following are resources provided by the Transfer Center that may include: transfer flyers and resources with the information that assists you with the transfer process: