Overview
Tell us about your transfer goal!
Announcements
The Transfer Center offers drop-in hours to answer students' questions regarding the CSU and UC application updates and assisting them to complete the supplemental applications (if applicable).
Check here for theDrop-in hoursschedule.
As we are working remotely, the Transfer Center will be available to assist you via email, phone and/or zoom. If you have any Transfer related questions or would like to schedule an appointment with the Transfer Center, please contact us at:
Soraya Sohrabi - sohrabi@smccd.edu or Gloria Darafshi -Darafshi@smccd.edu
Welcome! Cañada College Transfer Center is to assist you with your transition to university life by providing services and information.
Students interested in transferring to a four-year college or university may use Transfer Services to research universities, majors, academic requirements, college costs, and other transfer matters. Resources include college catalogs, college directories, articulation information, and access to ASSIST.org, a self-guided site that provides general education, major and course equivalency information.
At Cañada College, you may obtain an associate degree/Associate Degree for Transfer and complete lower division and major preparation courses toward your transfer goal.
From here you can go anywhere!
Plan early!! Select your major, explore your options to find the university of your choice, plan your coursework, and your finances.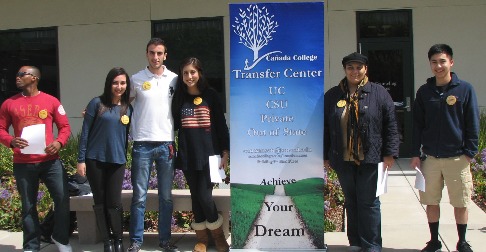 Transfer Services
University Representative Visits
The above is a list of universities that scheduled specific date(s) and time to meet with students at Cañada College. You may schedule an appointment with them to ask questions regarding their programs and services, admission requirements, cost of attendance, and financial aid and scholarship availabilities. You may also discuss your eligibility for admission to that campus.

Please check this schedule periodically as we may add more universities to this list.
Workshops
These workshops are to inform you of transfer matters and to assist you developing an effective transfer plan. These will take place virtually on the zoom. The zoom links to the workshops are listed in the schedule.
HBCU Virtual Events
The CCC Transfer Guarantee to HBCUs in partnership with National College Resource Foundation invite you to a week of virtual events in honor of Black History Month! For registration and more information click here.
Monday February 1st, 2021 thru Friday February 5th 2021
Cañada College has Transfer Admission Guaranteed/Agreements (TAG/TAA) with the universities. The Transfer Agreement Chart summarizes the minimum requirements and provides information on how to apply for UC TAG.
---
Resources
The following transfer flyers and online resources include information that may assist you with the transfer process:
Workshop Resources
Please click on "Sign-up to access workshops" to view the PowerPoint for the following transfer related topics:
UC TAG Application / UC Transfer Planner (TAP)

UC Admission Application
UC Personal Insight Questions (PIQ)
CSU Admission Application for Fall 2021
Associate Degree for Transfer (ADT)/Impaction
Financial Aid Information for transfer students
Interpreting Financial Aid Award Letters
"Next Steps" after Submitting an Application